NEPTAC Clinical Faculty Award Recipients
Each year, the New England Physical Therapist Assistant Consortium (NEPTAC) recognizes a Clinical Educator with the annual Clinical Faculty Award. The selection criteria for this award is rigorous, and award recipients are selected for their commitment to student mentoring, and for their excellence and innovation in clinical teaching.
2016 Ian Braithwaite PTA
Baystate Noble Hospital Bronson Rehab
Ian grew up in Granby, Massachusetts. He graduated from Granby Jr. Sr. High school in 2002. He went on to receive his Bachelor's Degree in Sports Medicine from Westfield State College in 2006. Following graduation, Ian attended Springfield Technical Community College's PTA program. He graduated with honors in 2008, and received the Lucille B. Hood Award for academic excellence and clinical competence. Ian has been a therapist for 9 years, working 3 years in an out-patient setting and the last 6 years at Bronson Rehabilitation's acute rehab unit in Westfield, Massachusetts. Ian was promoted to clinical coordinator of the rehabilitation floor in 2015, and just recently received another promotion to Program Director. He has been a clinical instructor for the last 6 years taking students from both STCC and Berkshire Community College. He currently resides in Southwick, Massachusetts with his wife Kristen, twin boys , Sean and Aden, and his youngest son, Evan.
2015 Linda Wilson, PT, ATP
RSU 18 and Waterville, Maine Public Schools
A 1985 graduate of University of Vermont, Linda currently works as a school-based physical therapist for RSU 18 and Waterville, Maine Public School System. She has a background in traumatic brain injury rehabilitation, sports medicine, orthopedics, athletic training and occupational medicine. She holds her Assistive Technology Professional certification to better serve her students with power mobility and accessibility. Linda loves to share her knowledge, experience and love for physical therapy as a clinical instructor.
2010 Melissa Saccoccio, DPT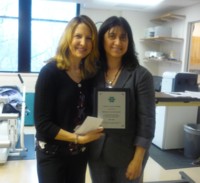 The Miriam Hospital, Providence, RI
A 1995 graduate of the University of Rhode Island with a Master of Science in Physical Therapy, and a 2006 graduate of Boston University with a Doctor of Physical Therapy degree, Melissa currently serves as the Center Coordinator of Clinical Education at The Miriam Hospital in Providence, RI. Melissa holds her Advanced Clinical Instructor Credentialing through APTA, and her steadfast commitment to promoting quality clinical education makes her a role model for students and coworkers alike.
2009 Martha Harrington, PTA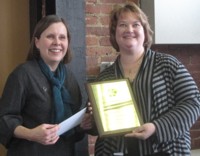 Baystate Rehabilitation Care, Springfield MA
Martha Harrington graduated from the Physical Therapist Assistant Program at Springfield Technical Community College in 1987. She is employed by Baystate Rehabilitation Care in Springfield, MA and is an APTA Credentialed Clinical Instructor. Martha has served as a clinical faculty member for many years providing quality supervision and inspiration to the students who work with her.
2007 Ryan Smith, PT
The Sports Clinic, York, ME
The New England Physical Therapist Assistant Consortium (NEPTAC) recently presented a Clinical Faculty Award to Ryan Smith, PT. This annual award recognizes and honors physical therapy clinicians who have improved the quality of clinical education of physical therapist assistant students in New England through excellence and innovation and in clinical teaching and student mentoring.

Ryan Smith, PT is the Clinical Director of The Sports Clinic at York [Maine], a satellite of Saco Bay Orthopedic and Sports Physical Therapy. Ryan is a 1997 graduate of the physical therapy program at the University of New England and is an APTA-credentialed clinical instructor. He specializes in orthopedic and industrial physical therapy, has traveled with local surgeons to Ecuador to assist in the rehabilitation and education of patients following total knee replacements, and serves as an instructor with ScoreBuilders, a student preparatory course for the National Physical Therapist Exam.

The Physical Therapist Assistant Consortium of New England represents 11 Physical Therapist Assistant (PTA) programs in the New England States. The Consortium is a voluntary, non-profit organization that works collaboratively to advance the quality of PTA education.